Opus® Plasma | Westborough & Salem, MA
What is Plasma Skin Resurfacing?
Microplasma skin rejuvenation at Keamy Cosmetic is a nonsurgical aesthetic solution that utilizes pulsating energy to eradicate damaged skin cells one layer at a time. This skin resurfacing solution is great for diminishing facial skin folds and for minimizing concerns, including acne scars, hyperpigmentation, and other issues. Microplasma skin rejuvenation utilizing the Opus® is considered an ideal procedure for patients desiring a softer, clearer, younger-looking complexion. Schedule your visit with Dr. Jean Keamy in Westborough or Salem, MA when you can.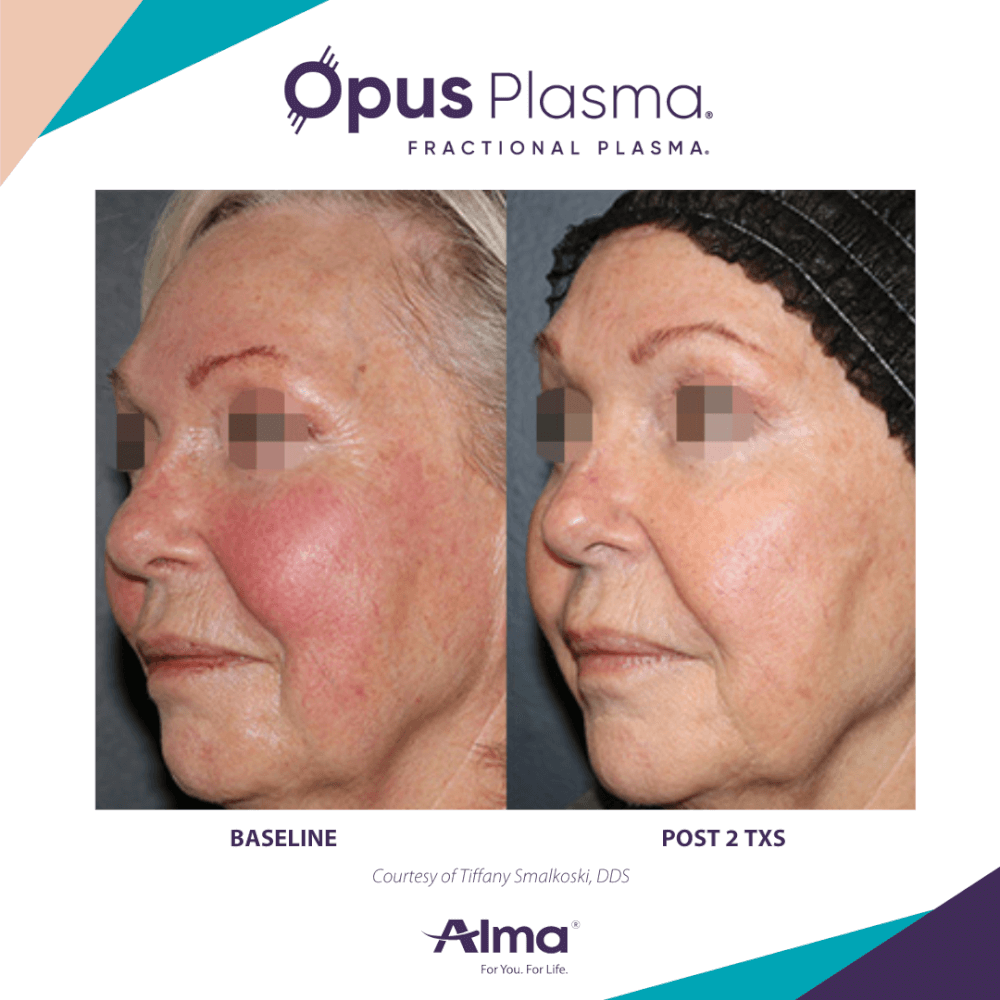 Am I a Candidate for Plasma Skin Resurfacing?
There are a variety of components to think about when deciding if plasma resurfacing s ideal for your complexion. This treatment is often optimal for anyone who is unhappy with their face and neck's appearance. Fractional plasma resurfacing procedures may help soften these aesthetic irregularities. Also, fractional plasma works well for people who have a rough texture, peeling skin, and other imperfections. This procedure might not be the best option for people with darker skin or current acne issues.
Plasma Skin Resurfacing FAQ
What is the cost of plasma fibroblast skin rejuvenation?
Plasma skin rejuvenation expenses vary depending on the treatment you want. At your first visit, our team will gather information about your skin needs and goals prior to reviewing the different varieties of resurfacing. After this, Dr. Keamy will help you choose your resurfacing method and discuss costs.
How can I help my skin recover after plasma skin resurfacing?
Dr. Keamy or someone on her staff will discuss how you can help your skin heal following your plasma fibroblast rejuvenation session. The top rule is to not peel or pick your skin. This could lead to lasting damage, such as scars. You should skip all types of hair removal in the treatment area, which means no shaving, waxing, or depilatory creams. In addition, you should avoid sun exposure. Our team can recommend a cream to help heal the treated areas.
Do I need multiple microplasma skin resurfacing treatments?
The initial plasma skin resurfacing treatment often delivers visible outcomes for many people. For the best results, consider getting 3 or 4 sessions every 2 – 4 weeks. With extensive resurfacing settings, extra time may be required between appointments. Following the first few treatments, we recommend arranging follow-up fractional plasma sessions every 6 – 12 months at Keamy Cosmetic.
Opus® Plasma Reviews
Dr. Keamy is the best of the best. I've been seeing her for a few years, and shes the only person I will allow to touch my face! Most recently I tried Opus Plasma, and i'm already hooked. The redness went away within hours, and by that evening I was already getting compliments on my skin. I'm in my mid-30's, and thanks to Dr. Keamy, everyone i meet assumes i'm 25. Worth every penny!!
Get In Touch
What Is Plasma Skin Tightening?
At Keamy Cosmetic, we are pleased to perform some of the most state-of-the-art cosmetic procedures on the market. Fractional plasma skin firming is a noninvasive treatment that applies top-of-the-line technology by Alma Opus Plasma® to smooth and lift drooping skin. RF and microplasma vibrations are delivered into the skin to stimulate collagen and elastin generation, producing a tighter, youthful appearance. Throughout this treatment, a team member can lift hanging, saggy skin tissue and creases near the eyes, brow area, neck, mid-face, and chin. Contact our team in Westborough, MA to book an appointment with Dr. Keamy to find out whether microplasma skin tightening is a good fit for your aesthetic needs.
Plasma Skin Tightening FAQ
How much does plasma skin tightening cost?
The price of Opus Plasma skin firming may vary depending on the number of treatments you require to achieve your objectives. When you come for your initial consultation, Dr. Keamy will learn about your objectives to create a personalized treatment strategy and cost information.
What is the expected healing time after Opus skin rejuvenation?
There is very little recovery time after the Opus Plasma skin-firming treatment. When you go home after your procedure, you may have minor red scabs on the region treated, which will fall away on their own after approximately seven days. We advise that you abstain from picking at your skin and avoid being in the sun as your skin recovers.
Will my plasma skin tightening enhancements be long-lasting?
Most people at Keamy Cosmetic see a decrease in fine lines and drooping skin following just one plasma skin tightening session. Still, our team recommends at least a couple of treatments to achieve the best result. Throughout your first appointment, Dr. Keamy will recommend the ideal amount of appointments based on the laxity of your skin and your aesthetic goals.
Learn More About Keamy Cosmetic MetroWest
About Us
Related Procedures